Order Music Now!!!
All purchases are negotiable (I'm poor!)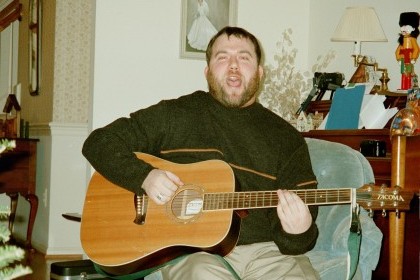 Well, no one has been asking for cds lately so my cd burner has lain dormant. But if you are hankering, let me know and I'll dust it off and crank it up.
More importantly check out my new guitar below! The Rick aka Brick as nicknamed by O'Malley. Shelktone is offically GOING ELECTRIC!
-ST(Shelktone)
| | |
| --- | --- |
| | We as a family sure are proud of that Nathan of ours. We knew he was bound for greatness ever since he perfected his Johnny Mathis impression from countless Christmases past. And we'd like to think his love of cheesy musicals has helped him along the way too. Not to mention great albums like "Sizzlin' Country". In fact, many car trips to Pennsylvania have schooled him in the ways of country and fifities doo wop. These are the only two types of music that Pops Shelkey seems to like and He Who Brings In The Bread, Tunes The Radio. From his mother, he inherits the wealth of Neil Diamond, Kenny Rogers, John Denver, Peter, Paul, and Mary, Lionel Ritchie and many other soft rock mega artists as well. |